Langston Hughes, a great poet from the Harlem Renaissance, is one of my favorite poets. When I think about racial equity, I think about his poem, "I Dream A World."
I Dream A World
I dream a world where man
No other man will scorn,
Where love will bless the earth
And peace its paths adorn
I dream a world where all
Will know sweet freedom's way,
Where greed no longer saps the soul
Nor avarice blights our day.
A world I dream where black or white,
Whatever race you be,
Will share the bounties of the earth
And every man is free,
Where wretchedness will hang its head
And joy, like a pearl,
Attends the needs of all mankind-
Of such I dream, my world!
When we talk about racial equity it is important to define equality, equity, and justice. Equality basically means treating everyone the same. Equity means meeting needs based on individual differences. Justice means being fair.
The following visual is helpful when you think about achieving equity and justice for underrepresented and marginalized students.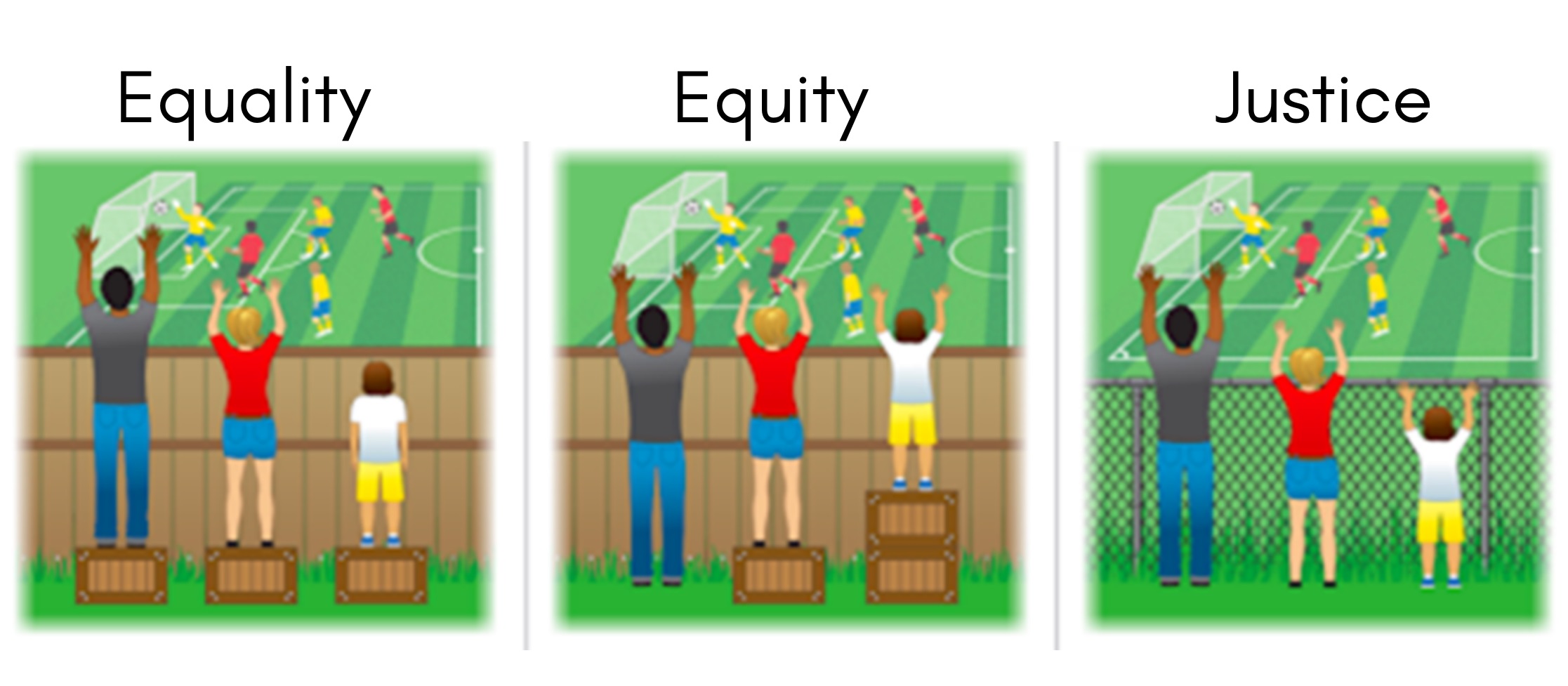 "Racial justice is the systematic fair treatment of people of all races, resulting in equitable opportunities and outcomes for all. Racial justice — or racial equity — goes beyond "anti-racism." It is not just the absence of discrimination and inequities, but also the presence of deliberate systems and supports to achieve and sustain racial equity through proactive and preventative measures." https://neaedjustice.org/lets-talk-about-race/
Dr. Martin Luther King, Jr. said, and I quote, "Injustice anywhere is a threat to justice everywhere." We must continue to remove barriers and level the playing field. When we do this, we can help to ensure that all students have the opportunity for educational equity, excellence, and success in life.
LEARNING FOR JUSTICE
For several years, I used the outstanding resources from Teaching Tolerance. I was always excited to receive the free materials which included classroom resources, magazines, publications, and professional development. They recently changed their name to Learning for Justice. Jalaya Liles Dunn, the director of Learning for Justice stated, "We know that justice is the heart of what we want for our young people and for society at large."
There is an African Proverb that says, "It Takes a Village to Raise a Child." Educators, you are the key to a better future for your students. Child Psychiatrist Dr. James Comer says, "No significant learning occurs without a significant relationship." Having at least one caring adult in the life of a child can make a positive difference.
SUGGESTIONS FOR AFTER SCHOOL PROVIDERS
Building positive relationships with your students and their families.
Share your cultural background with your students.
Learn about and respect your students' cultural background.
Have high expectations for all of your students.
Serve as a positive role model and mentor to your students.
Include multicultural resources (books, videos, displays, speakers, etc.) in your lessons.
Check to see if your students and families have access to needed resources.
Attend cultural competency trainings to help eliminate racial bias in the classroom.
CALL TO ACTION
What are you already doing to ensure racial equity for your students and their families? What are some additional things that you can do to ensure racial equity for your students and their families?
RESOURCES
Learning for Justice - www.learningforjustice.org
NAME - National Association for Multicultural Education – www.nameorg.org
Utah Chapter of NAME – www.utahname.org
Courageous Conversations Around Race – Glenn Singleton and Curtis Linton
How to Teach Students Who Don't Look Like You, Culturally Relevant Teaching Strategies – Bonnie Davis
Teacher, they called me a _____! Confronting Prejudice and Discrimination in the Classroom – Deborah Byrnes
Why Are All the Black Kids Sitting Together in the Cafeteria – Beverly Daniel Tatum
You Can't Teach What You Don't Know – White Teachers, Multiracial Students - Gary Howard
REACH (Respecting Ethnic and Cultural Heritage) Training – This training is offered in several school districts in Utah and throughout our nation.
Dr. Jackie Thompson is the former Director of the Educational Equity Department for Davis School District in Utah. Dr. Thompson taught public school for four years in Pocatello, ID and Sacramento, CA. She served as a Race Desegregation/Education Specialist for the Utah State Office of Education. Her primary responsibilities included civil rights monitoring, providing technical assistance, training, and networking resources to address such areas as cultural diversity, bias awareness, and gender equity.
This blog post has been provided by Dr. Jackie Thompson.