It's easy to think about family and friends during the month of November. As we head into the holiday season, we find those we love at the forefront of our minds. This is also a great time to pause and think about how meaningful relationships are supported in our afterschool programs.
Let's explore meaningful relationships with a layered approach. Think of it like a house that requires a strong foundation, solid walls, and a sturdy roof. All three are needed for the house to stand on its own. When it comes to afterschool programming, a robust environment, strong interactions, and supportive partnerships lay the foundation for youth success.
A strong foundation for youth in afterschool consists of intentionally building an environment where youth have what they need to thrive. If youth don't feel safe and supported in their environment, it's hard to learn and grow. With this in mind, topics such as acceptance and belonging must be at the center of our work and space. Here are some basics to keep in mind when it comes to nurturing youth.
Inclusion and Connection
Establish an emotionally and culturally understanding environment with:
Acceptance and inclusion
Sense of belonging
Constructive conflict resolution
Supportive Environment
Foster youth needs while helping them make connections with:
Non-evaluative language and open-ended questions
Active engagement
Youth leadership and mentoring
Youth voice
Youth-Adult Interactions
Model positive communication and foster cooperative learning with:
Warm greetings and active listening
Supportive adult leadership
Find information and tools for Social-Emotional Learning in UAN's resource library.
How staff interact with youth is a large component in building strong relationships, but don't forget that youth also look up to and watch the interactions between staff. A house is supported with strong walls and a program's walls are made of the relationships within your program. Your partnership with school day personnel is another crucial relationship to consider. A positive working environment not only benefits youth but your staff as well. Here are key components to supporting these relationships.
Support staff with:
Respectful and cooperative team interactions
Positive team culture
Frequent, clear, and open communication that seeks input and provides feedback
Align with school day personnel with:
Positive relationships and culture
Clear communication around policies
Mutual agreed shared resources
Collaborative student needs approach
Intentional academic links
You might be thinking that these are great points, but where does one go to get help to grow in these areas? UAN's Staff & Leader Development Resources and School Day and Afterschool Alignment page are both great places to start.
A roof is the structure that shields and protects what you've built inside. Community partners are a shelter for your program providing support to help meet your goals and vision. Lean on community partners to help enhance your program offerings. Here are some creative ways to connect with these neighborhood organizations.
Connect with community partners to:
Identify existing and new opportunities
Communicate program goals and address student needs
Create activities or services that build on youth talents, skills, and strengths
Utilize the resources within UAN's Family & Community Engagement page to help get fresh ideas and create goals around community partnerships.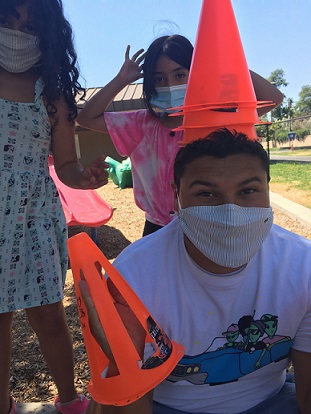 Just like building a house, developing meaningful relationships in afterschool comes with blueprints. Utilize UAN's Quality Assessment and Improvement Tool (Quality Tool) and Action Plan to assess progress and growth within your program while ensuring best practices are followed. The Quality Tool has a whole section dedicated to meaningful relationships. As you wrap up your tool for the 2020-2021 school year (they are due Nov. 30), be sure to take some time to reflect on your "house." So, what are the Out-of-School Time and School Alignment Specialists up to this month? We are constantly on the search for new resources to help you succeed. Have you shared your Quality Tool with your specialist? You are encouraged to do so before the end of the month.