WHAT IS CSforALL?
Computer Science for All (CSforALL) is a movement that began with Ruthe Farmer, former Senior Policy Advisor for Tech Inclusion for the Obama Administration, with the mission to make high-quality computer science an integral part of the educational experience of all K-12 students and teachers and to support student pathways to college and career success. CSforALL is a central resource for individuals and organizations interested in K-12 computer science (CS) education. They connect providers, schools and districts, funders, and researchers working toward the goal of providing quality CS education to every child in the United States.
SUSTAINABILITY
CSforALL is a bold initiative to empower all US students from kindergarten through high school to not only consume in our tech-growing world but to learn and become equipped with the computational thinking skills they need to be creators in the digital economy and to be active citizens in our technology-driven world. Our economy is rapidly shifting, and educators, policymakers, families, and business leaders are increasingly recognizing that CS is a "new basic" skill necessary for economic opportunity and social mobility.
The movement builds on efforts already being led by parents, teachers, school districts, states, and private sector leaders from across the country.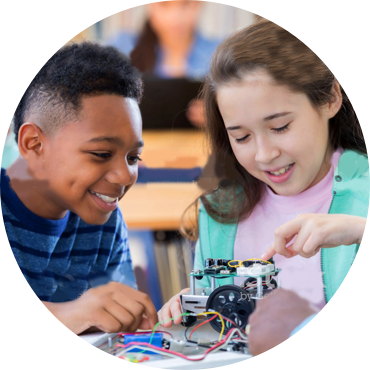 According to CSforALL's website, "CSforALL sets a collective agenda together with our membership of content providers, education associations, researchers, and supporters to help schools and districts provide all students with rigorous K-12 computer science education. We serve as a platform for connecting diverse stakeholders, providing support to new and developing initiatives, tracking and sharing progress, and communicating about the work to local and national audiences."
UTAH'S CLIMATE
In Utah, computer science is mandatory for one class during a student's freshman year in high school. After that, and prior to that, it is an elective. As all industries move toward computation and automation, the need for computer literacy and coding is progressing faster than the people filling the positions in those fields.
As a state, Utah is getting the overflow of Silicon Valley with companies like Amazon, Adobe, and Silicon Slopes setting up shop in our quaint little spot, the tech industry is booming and begging for people with IT, ethical hacking, programming, and even security to come out of the woodworks. As we move toward this tech boom, we are anticipating that there will be hundreds of great-paying jobs available but few with the skill sets to fill the positions.
NATIONAL SUMMIT
Because of our current national space as a tech-growing state, Salt Lake City has beaten out other tech-savvy cities such as Seattle and San Francisco as the hosting city of 2019 CSforALL Summit. In October 2019, the national computer science (CS) education community will convene to celebrate progress on the CSforALL movement and announce new commitments to reach the goal of access to rigorous, inclusive, and sustainable computer science education for all US students. Utah Afterschool Network has committed to expanding CSforALL's movement by expanding our computer science professional development opportunities at our annual conferences Jump Start and Recharge. Keep an eye out for CS Education speakers this November!
Join the CSforALL Movement and check out our resource library for computer science curriculum to incorporate into your program!