Utah Afterschool Network and STEM Action Center have partnered with Girls Who Code whose mission is to close the gender gap in the tech industry and change the image of what a programmer looks like and does. Stereotypes surrounding who can become a computer scientist begin in middle and high school, and statistics prove the underrepresentation of women pursuing these fields at the college level. In response to this gap, Girls Who Code (GWC) has created a free curriculum for afterschool providers (you could be the next Girls Who Code club facilitator!).
As GWC stated, "We believe, and research supports, that girls who grow up surrounded by women in computer science will see that field as a potential pathway for themselves. Girls exposed to only male technologists will not benefit in the same way."
Who Can Code?
Girls Who Code is a national organization with headquarters in New York City. They saw the inequity in computer science and jumped on the opportunity to establish it as a realistic and important pathway for all students to consider, including the very underrepresented female population. Anyone who identifies as female or non-binary and gender-nonconforming persons are also welcome to this female-identified environment. Boys are, of course, welcome to join as well.
Educators and afterschool providers are the gatekeepers that ensure girls enroll in these classes and offer the social and emotional development opportunities to encourage them to pursue careers in fields such as: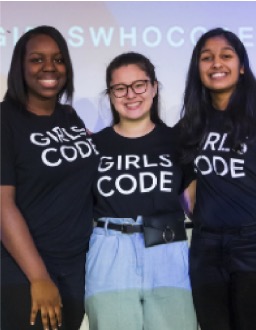 Video game design
Web development
Cybersecurity
Information technology
Girls in computer science offer a unique perspective when developing products and communication strategies that are being overlooked in the current computer science education climate.
Your Role
As a provider, you will determine whether you want to act as a facilitator or a decision-maker and decide which timeline works best for your club. You identify and provide the appropriate non-profit location or school to serve as your host site with access to computers and reliable internet. All information and FAQs can be found here. In addition to weekly webinars, Girls Who Code has created a webinar specifically for UAN affiliates. Sign up to join a webinar on Thursday, August 29th!
Next Steps
Submit your application now! Once approved, you'll receive a unique Club Code along with access to the HQ learning platform, free curriculum, resources, and personalized support. Girls Who Code provides information on facilitating successfully, teaching styles, and how to encourage girls to join your Club. This curriculum was created to teach the teacher along WITH students. Facilitators of clubs DO NOT need experience in coding languages to succeed in teaching (and learning) how to code!
Grades 3-5 are offered a theoretical approach using literature covering an overall understanding of what computer science is. These lessons can be taught wirelessly but come with optional online content. Girls read and discuss best-selling books and complete challenges as a team.
Grades 6-12 have a variety of possible lessons, require a laptop or desktop, and reliable internet access. These teams create projects collaboratively through various coding languages including C++, Java, and newly added Python course-work. Check out some great results here!
Applications for the 2019-2020 school year are open now and remember to select Utah Afterschool Network as your partner affiliate!