What is Million Girls Moonshot?
Million Girls Moonshot is a STEM initiative that seeks to re-imagine who can engineer, who can build and who can make. In Utah, we are doing this by reaching girls from a young age, using near-peer mentors, and involving families. In 2021, we launched our Million Girls Moonshot program in seven pilot sites. These sites were recipients of our MGM innovation stations, STEM curriculum, and a wide array of professional development. This Mott-funded initiative aims to engage one million more girls in STEM learning opportunities and we are pleased to announce that we are ready to expand to an additional ten sites.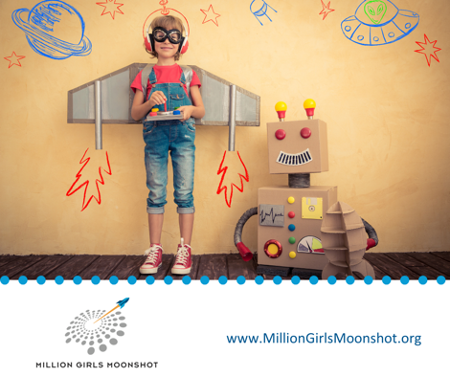 Current Million Girls Moonshot Sites in Utah
Entheos (Kearns)
Entheos (Magna)
Juab (Red Cliffs)
Pacific Heritage
Escalante
Panguitch
Iron County
If you would like to learn more about how your program can become a Million Girls Moonshot site please complete the Million Girls Moonshot Interest Form.
Monthly MGM Resources
Each month the Million Girls Moonshot resources will be updated with webinars, trainings, curriculums, and more that will help bolster any STEM program.
SPECIAL OPPORTUNITIES
Applications open for Project EDGE Social-Emotional Curriculum Testers!
Project EDGE (Engagement and Development for Girls through Engineering) is testing and evaluating an OST curriculum that integrates engineering activities and social-emotional development for youth with the goal of developing STEM identity and an Engineering Mindset. Read about the benefits to educators and youth, and requirements for participation here. $1,000 Stipend for program participation.
Applications due May 31, 2023.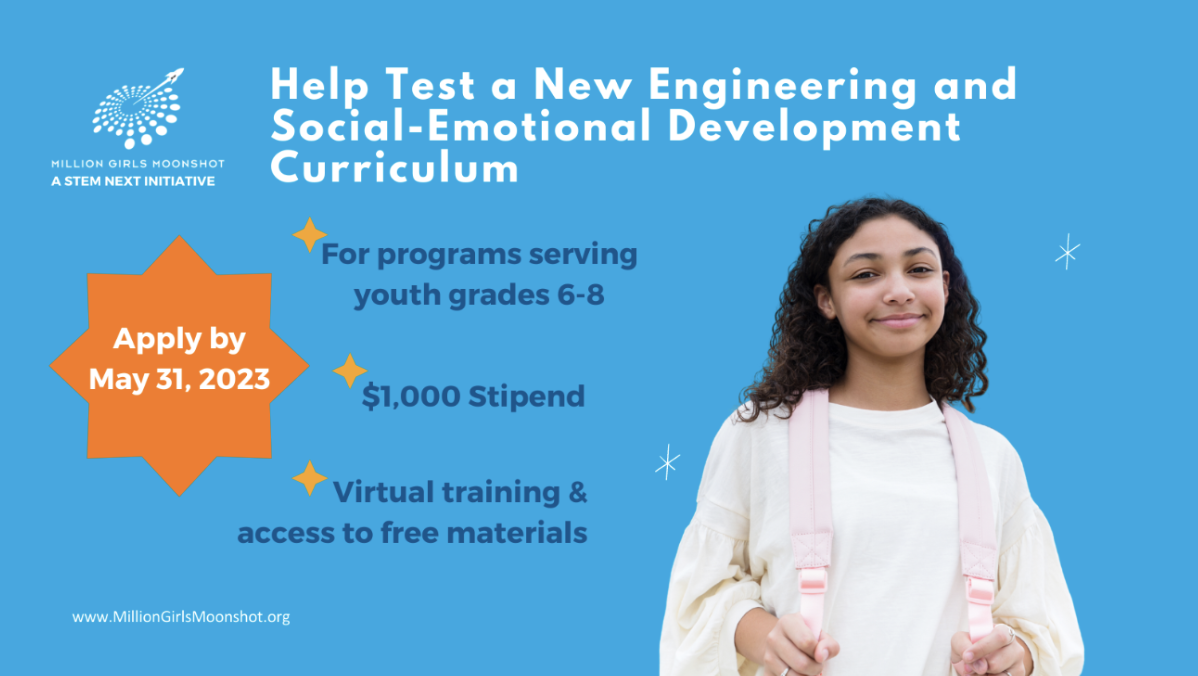 NO COST WEBINARS
ACRES Training Cohort: Asking Purposeful Questions
Wednesdays: 05/03/2023, 05/17/2023, 05/31/2023 12:00 pm-2:00 pm EST/ 9:00 AM - 11:00 AM PST
Questions begin a path towards discovery, imagination, and STEM exploration. How can we help youth expand and clarify their thinking and develop their reasoning through the questions we ask them? This module is a great way to train staff on how to facilitate STEM learning. Experienced educators also love being part of a cohort as a way to connect with other educators across the country, to learn new lesson plans, and to reflect on practice. This is our introductory module and a prerequisite to other opportunities. *The expectation is that you will be live at all three sessions and an active member of this coaching cohort. REGISTER HERE. Use the code AC288PQ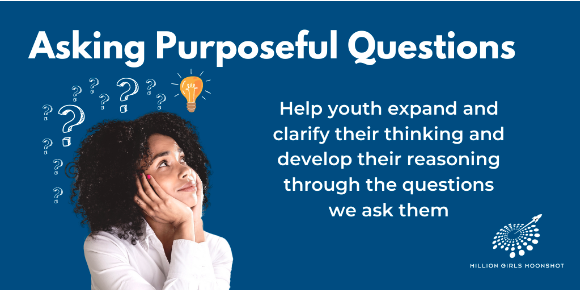 ACRES Training Cohort: Facilitating Science Practices
Wednesdays: 05/31/2023, 06/14/2023, 06/28/2023 3:30 pm-5:30 pm EST/ 12:30-2:30 pm PST
How can we make sure that our 'hands on' science experiences for youth are also 'minds on?' In this module, participants learn how to support youth as they engage in science practices to learn science ideas, including planning and conducting investigations around testable questions. They'll talk about the similarities and differences between questioning in science versus questioning in engineering contexts. REGISTER HERE Code: AC225SP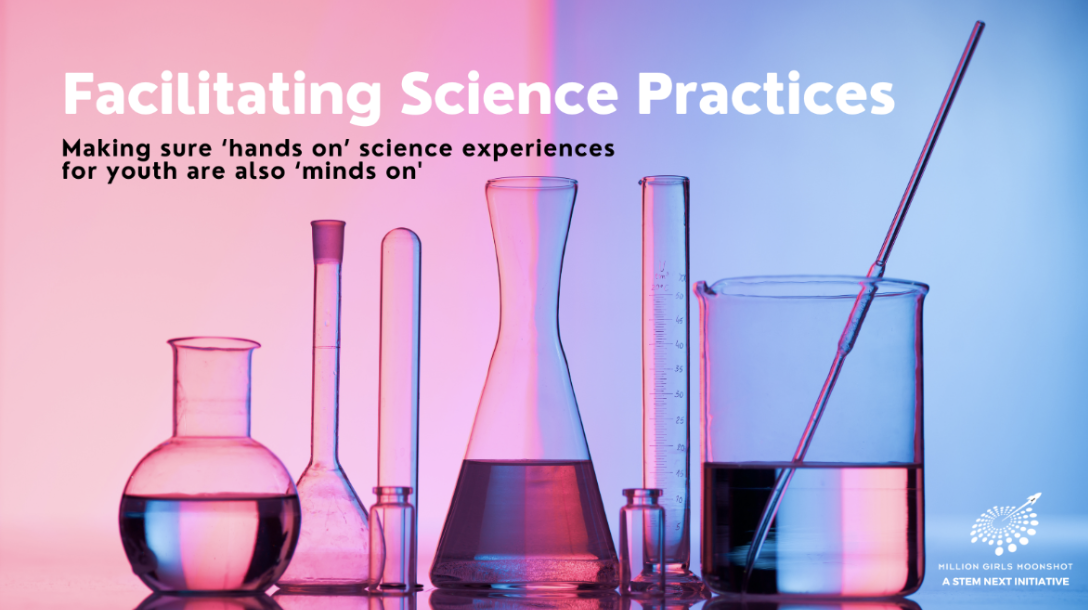 Click2Engineering Spring Community of Practice
May 3, and 17 2023 2:30 pm EST/ 11:30 am PST
The Click2Engineering community of practice (CoP) introduces out-of-school time educators to the basics of engineering and leading engineering activities with youth. The CoP is organized around the 10 Practices for an Engineering Mindset, and includes hands-on engineering activities, developing engineering experiences for youth, and learning skills to facilitate engineering practices. The CoP is four meetings over 8 weeks. REGISTER HERE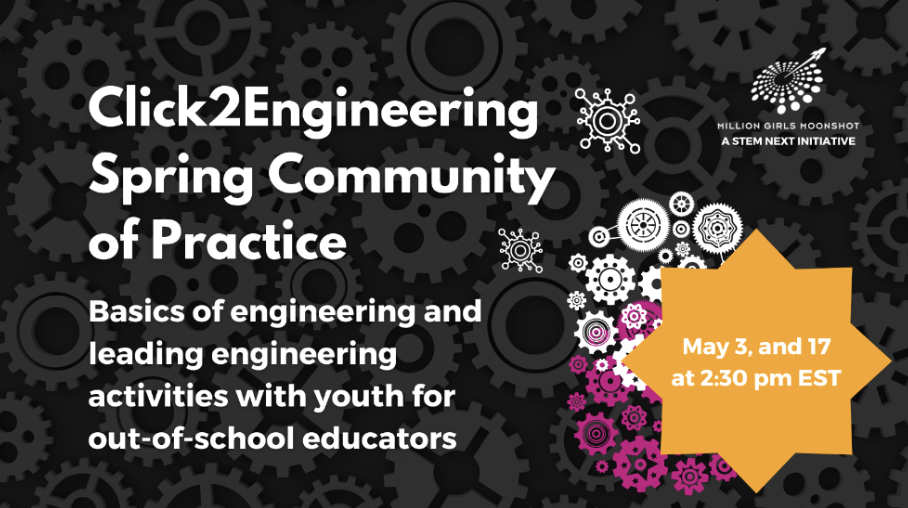 Click2ComputerScience Virtual Workshop: Hacker Series
May 23, 2023 1:30-3pm EST/ 10:30-noon PST
Looking to enhance your computer science programming? Join us for the "Hacker Training" virtual workshop on May 23, 2023. We'll explore the fascinating world of encryption with prime numbers. You'll learn the basics of cryptography, including how to encode and decode messages using prime numbers, and how to bring this to the youth in your program. At Click2ComputerScience, know that you don't need to be an expert coder or techie to lead great CS experiences. This workshop will build on the skills you already have, and you will be prepared to help youth have fun working with numbers and discover the importance of cybersecurity in today's digital landscape. Register now for this workshop on May 23, 2023. REGISTER HERE
NO COST TRAINING ON CURRICULUM
Afterschool Math Plus Curriculum Training
Thursdays: May 16, June 20, July 18, August 15, September 19, October 17, and November 28, 2023 1:00 - 2:00 PM EST
REGISTER FOR EACH INDIVIDUAL TRAINING SESSION HERE
Jump Rope Math: The Whys of Jumping Rope — May 16th 1:00-2:00pm EST

Conduct surveys about why people jump rope and use data to create bar graphs and Venn diagrams to represent people's answers.

Jump Rope Math: How Far Can You Go? — June 20th 1:00-2:00pm EST

Create line graphs and use data to make predictions about how far jumpers can travel in a set amount of time.

Jump Rope Math: Going to Great Lengths — July 18th 1:00-2:00pm EST

Observe patterns, create a scatter graph, and analyze data to make predictions about connections between jump rope length and jumper height.

Jump Rope Math: Designing a Math Investigation — August 15th 1:00-2:00pm EST

Use bar graphs, line graphs, scatter graphs and Venn diagrams to explore different ways of answering math questions about jumping rope.

MusicMath: Unexpected Math, Creating Rhythms, and Making Rhythm Patterns — September 19th 1:00-2:00pm EST

Create musical patterns, then repeat the patterns and think about how to represent the patterns using words, pictures, and symbols.

MusicMath: Composing Music (with Math!) — October 17th 1:00-2:00pm EST

Experiment with repeating patterns and create new arrangements using similar sounds in different sequences.

MusicMath: Discovering Music Fractions — November 14th 1:00-2:00pm EST

Identify and represent parts of fractions using music and explore combinations and permutations, or ways of creating variety while still using the same elements.

MusicMath: Orchestration — December 12th 1:00-2:00pm EST

Use fractions to create musical compositions, then perform the compositions using found instruments (pans, boxes, pencils, whistles). Create new combinations and permutations for the music fractions.
Note: Each webinar will include strategies to support a positive Math Identity (e.g., role models, career connections, family connections, literacy connections).
REGISTER FOR EACH INDIVIDUAL TRAINING SESSION HERE
NO COST ACTIVITIES
Activity Playlist
Looking for a sequence of activities you can implement in your afterschool program today? Say goodbye to googling or searching on Pinterest. Use the following activities in sequence to support youth in building an engineering mindset.
Environmental Science Playlist

Activities: A list of dozens of activities on climate change with descriptions, age level, everything you need to know.
Role Models: List of 13 inspiring examples of young environmentalists making a difference
Activities: Free hands-on activities for families and educators on environmental advocacy, role models, and environmental friendly strategies.

Environmental Science and Engineering: These 20+ free STEM lessons, projects, and activities have been grouped thematically to highlight environmental science challenges and potential STEM-based solutions: Energy, Ecological Footprint, Water, STEM Solutions
Activities: Celebrate spring with 26 free science and engineering lessons, projects, and activities for enriching hands-on STEM related to spring weather, flowers, plants, and more!
Looking for EVEN More Activities at NASA?! Activity Toolkit: Engineering is Elementary's NASA Partnership free units - A suite of free NASA-funded STEM resources for students in grades 3-8. All resources are research-based and classroom-tested. They are designed to support students' understanding of space, while helping them see themselves as capable problem solvers.
Mizzen by Mott
Supported by the Mott Foundation, Mizzen is available at no cost to afterschool professionals! Encourage partners to download the Mizzen By Mott app to access STEM activities at your finger-touch! You'll find it in Mizzen here.
Featured Activities & Playlists
Mizzen Activity: Beach Ball Math
Mizzen Playlist: STEM Activities for 9-12th Grades - Students engage in science and engineering activities that contain accessible materials.
Mizzen Playlist: STEM Activities for K-5th Grade in Small Groups - This playlist is a great mix of engineering and science activities that are easy and fun for small groups of kids K-5th.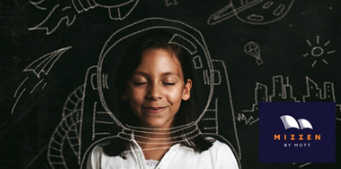 ADDITIONAL RESOURCES
Recruit STEM Experts as Volunteers!
Less than 50% of high school girls know a woman in a STEM career. Let's change that - recruit STEM professionals to support the youth you serve today!
VolunteerMatch attracts more than 1M site visits each month, and is easily one of the best ways to find strong role models for the youth you serve.
The Moonshot has partnered with VolunteerMatch to connect STEM experts with OST programs! Create a free VolunteerMatch account and post volunteer opportunities to work with your youth today! Register here to find role models and mentors in STEM.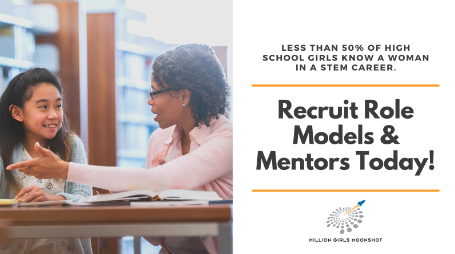 SPECIAL OPPORTUNITIES
TRANSFORMATIVE PRACTICES
Website: State of Girls and Women in STEM - This updated NGCP resource presents a high-level summary of the most compelling statistics and research on the state of girls and women in STEM, focused on K-12 Education, Higher Education, and the STEM Workforce. The report highlights the impacts of intersectional inequalities, as Latina, Black, and Indigenous women represent less than 10% of the STEM workforce. A toolkit with graphics of these statistics and research is available to use in social media and presentations.
Webinar Series: NCWIT Webinar Series: Advising for Future-Ready Careers - NCWIT Counselors for Computing in partnership with Department of Defense STEM is hosting a webinar series for educators, parents/caregivers, and students focused on preparing youth for diverse careers in computing. Participants will gain resources and strategies for engaging youth in computer science experiences and topics, such as machine learning. The next webinar entitled "Support and Strengthen Pre-college STEM Programs" is May 11.
Website: Exploring Paleontology to Spark Science Engagement from a Young Age - Learn how to nurture your students' interest in dinosaurs and increase science engagement beginning in elementary school in this webinar recording. Hear from Dr. Holly Woodward Ballard, an Associate Professor of Anatomy and Paleontology at the Oklahoma State University Center for Health Sciences, and PK-5th grade teacher Alyssa Barr who shares tips on how to use a book like Lily and Maia to fuel an integrated learning experience. This webinar also featured Audrey O'Connell, co-founder of HSG, who shared the process of developing the Lily and Maia characters and working with the young artist, Grace Hattrup, to ensure scientific accuracy of the paleo elements.
Website: Smithsonian Science for Makerspaces - This series of free engineering design challenges engage youth in emerging technologies through hands-on learning. Inspired by Smithsonian Science for the Classroom, these activities bridge formal science education and the makerspace movement by helping educators and teachers engage with digital and physical technologies within the context of STEAM by asking them to make something new.
Toolkit: Brokering Youth Pathways: A Toolkit for Connecting Youth to Future Opportunity from the Hive Research Network - This toolkit shares ways in which various out-of-school educators and professionals have approached the challenge of brokering. We provide a framework, practice briefs and reports that focus on a particular issue or challenge and provide concrete examples, as well as illustrate how our partners worked through designing new brokering routines in partnership with our research team.
ASSETS FROM THE IF/THEN® COLLECTION
These assets feature IF/THEN® Ambassadors and can be used in marketing, presentations, social media, and conference presentations.
Ambassador Profile, Nina Niu Sanford
Ambassador Profile, Shyla Raghav
Ambassador Profile, Allie K. Miller
Ambassador Profile, Janis Louie
Ambassador Profile, Terri Burns
Ambassador Profile, Samantha Porter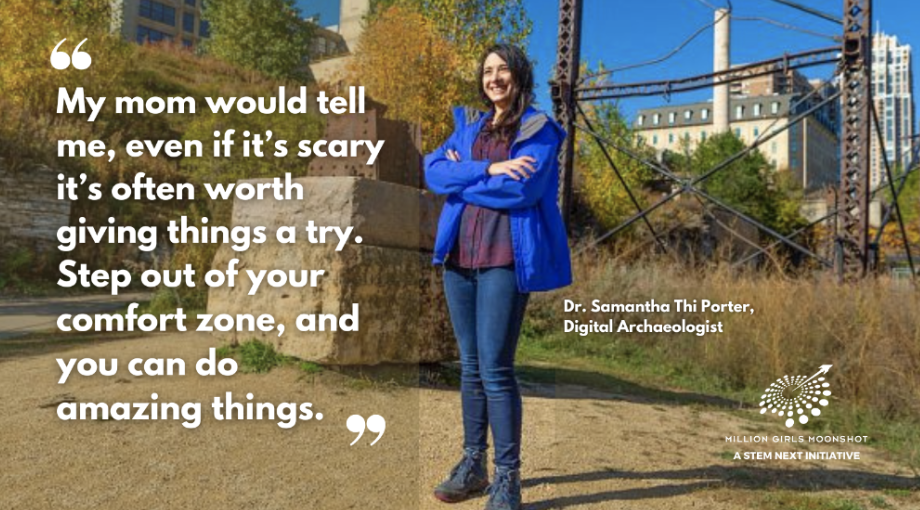 If you are looking for more STEM resources be sure to check out our Resource Library, Young Utahpreneur Grant and the Pitch Challenge!