What is Million Girls Moonshot?
Million Girls Moonshot is a STEM initiative that seeks to re-imagine who can engineer, who can build and who can make. In Utah, we are doing this by reaching girls from a young age, using near-peer mentors, and involving families. In 2021, we launched our Million Girls Moonshot program in seven pilot sites. These sites were recipients of our MGM innovation stations, STEM curriculum, and a wide array of professional development. This Mott-funded initiative aims to engage one million more girls in STEM learning opportunities and we are pleased to announce that we are ready to expand to an additional ten sites.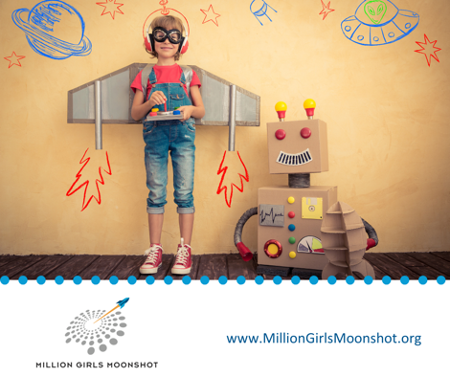 Current Million Girls Moonshot Sites in Utah
Entheos (Kearns)
Entheos (Magna)
Juab (Red Cliffs)
Pacific Heritage
Escalante
Panguitch
Iron County
If you would like to learn more about how your program can become a Million Girls Moonshot site please complete the Million Girls Moonshot Interest Form.
Monthly MGM Resources
Each month the Million Girls Moonshot resources will be updated with webinars, trainings, curriculums, and more that will help bolster any STEM program.
PROFESSIONAL DEVELOPMENT
ACRES Training Cohort: Facilitating Math Practices
Dates: 2:00 PM - 4:00 PM EST on the following Wednesdays: 9/28/2022, 10/12/2022, 10/26/2022
Are you looking for fun ways to help youth build number sense and problem-solving skills? Math can take on new meaning when it is integrated into daily routines in our afterschool programs. In this module, after school educators will explore and practice strategies for making math engaging and accessible. *The expectation is that you will be live at all three sessions and an active member of this coaching cohort. Register: Use the code AC240MP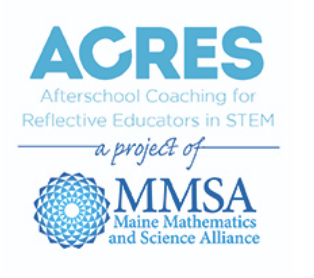 Best Practice Webinar: Leveraging Collective Impact to Support STEM Programs and Resources
September 29, 2022 12:00 - 1:00 PM PT / 3:00 - 4:00 PM ET
In this webinar, learn how NGCP and other organizations leverage collective impact in order to provide the opportunity for programs to increase their ability to maintain interest and participation of girls in STEM through collaboration. Hear from a dynamic panel of speakers on strategies for successful STEM collaborations and how to nurture and scale effective STEM learning opportunities for all young people. (Register and learn more via link above).
Best Practice Webinar: Addressing STEM Stereotypes with Youth and Young Adults
October 13, 2022 11:00 AM - 12:00 PM PT / 2:00 - 3:00 PM ET
This webinar, the first of a two-webinar series, will dig deeply into research and best practices related to addressing STEM stereotypes with older youth and young adults. Researchers and educators will share strategies and resources to counter and break down STEM stereotypes. Speakers include: Claudia Fracchiolla, American Physical Society (APS), Michelle Higgins, The University of Arizona, Corinne Okada Takara, Bioartist and STEAM Educator. (Register and learn more via link above).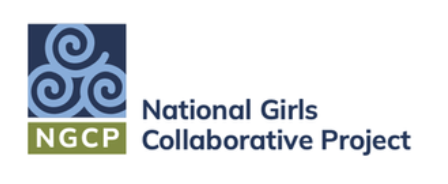 ACRES Training Cohort: Facilitating Engineering Practices
Dates: 9:00 AM - 11:00 AM EST on the following Tuesdays: 10/4/2022, 10/18/2022, 11/01/2022
Engineering has become a staple of STEM programming for youth. How can we confidently bring engineering into our programming and support youth as they engage in 02problem solving? In this module, participants gain first-hand experience with engineering by solving a design problem. They examine the components of the engineering design process and discuss ways to model the process with youth. Asking Purposeful Questions is a prerequisite to this skill. *The expectation is that you will be live at all three sessions and an active member of this coaching cohort. Register: Use the code AC281EP
ACRES Training Cohort: Asking Purposeful Questions
Dates: 10:00 AM - 12:00 PM EST on the following Thursdays: 10/13/2022, 10/27/2022, 11/10/2022
Questions are the beginning of a path towards discovery, imagination, and STEM exploration. How can we help youth expand and clarify their thinking and develop their reasoning through the questions we ask them? This module is a great way to train new summer staff on how to facilitate STEM learning. Experienced educators also love being part of a cohort as a way to connect with other educators across the country, to learn new lesson plans, and to reflect on practice. This is our introductory module and a prerequisite to other opportunities. *The expectation is that you will be live at all three sessions and an active member of this coaching cohort. Register: Use the code AC282PQ
Quality STEM Webinar: DOS Certification Training
October 19-20 7:00 AM - 1:00 PM PT / 10:00 - 4:00 PM ET (register by October 5)
The training process involves a two-day live webinar training, completion of video calibration exercises, a one-hour live calibration session, and successful completion of two practice observations in the field. PEAR staff offer live, webinar DoS training monthly and in-person training for state networks or organizations can be arranged as needed for an additional cost. PEAR staff provides ongoing technical assistance, quarterly data reports, and online data management support for all DoS observers for two years post-certification.
Quality STEM Webinar: Recertification Training for DOS Observers
November 8, 2022 7:00 - 10:00 AM / 10:00 - 1:00 PM ET (register by October 25)
Please note that observers that have been certified for two or more years need to complete recertification to make sure they are continuing to use the tool reliably.

Best Practice Webinar: Addressing STEM Stereotypes with Young Children
October 20, 2022 11:00 AM - 12:00 PM PT / 2:00 - 3:00 PM ET
This webinar, the second in the series, will dive into research and best practices related to addressing STEM stereotypes with young children beginning in preschool. Researchers and educators will share strategies and resources for discussing and addressing STEM stereotypes with young children. Speakers include: Dr. Allison Master, University of Houston College of Education, Carmelo Piazza, Brooklyn Preschool of Science, Kim Collazo, Public School Educator & Author. (Register and learn more via link above).
Best Practice Webinar: Creating Inclusive Computer Science Learning: A Virtual Workshop
October 25 3:00 PM EST
Join the Click2ComputerScience team as they review specific strategies to create an inclusive computer science learning environment in out of school time. You will leave the workshop with specific tactics to implement, computer science activities and resources to continue your professional learning on computer science.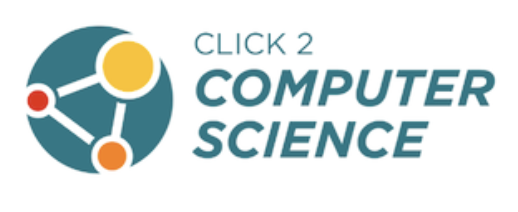 Best Practice Webinar: Preparing yourself to Lead Computer Science: A Virtual Workshop
November 8 3:00 PM EST
Join the Click2ComputerScience team as they review specific strategies and ways out of school time educators can prepare themselves, their programs, and space to lead computer science with youth. You will leave the workshop with specific tactics to implement, computer science activities and resources to continue your professional learning on computer science.
ACRES Training Cohort: Facilitating Science Practices
Dates: 6:30 PM- 8:30 PM EST on the following Tuesdays: 11/8/2022, 11/29/2022, 12/13/2022
How can we make sure that 'hands on' science experiences for youth are also 'minds on?' In this module, participants learn how to support youth as they engage in the science practices to learn science ideas, including planning and conducting investigations around testable questions. They'll talk about the similarities and differences of questioning in science versus questioning in engineering contexts. Register: Use the code AC283SP.
Role Models Matters Training for STEM Volunteers
Ready to train volunteers and role models in your Network, school, or afterschool program? COMPLETE THIS REGISTRATION FORM to gain access to the Role Models Matter training developed by Techbridge Girls.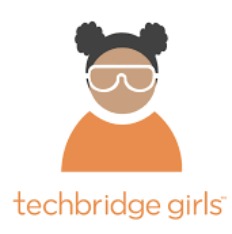 SPECIAL OPPORTUNITIES
Teen Science Cafe Moonshot Fellows
Become a Teen Science Café Fellow! Teen Science Cafes are a free, fun way for teens to engage in lively conversations with STEM experts that explore the advances in science and technology that affect their lives. In these events, teens socialize over teen-friendly food and drink and have a lively conversation with local scientists and engineers about current cutting-edge developments in their fields, all in a relaxed and informal out-of-school setting. Teen Science Cafés are for teens, by teens. Teen Science Cafés are not just for the science geeks; they are for all curious teens. Along the way, teen organizers gain a host of leadership skills. Cafés are typically run about an hour and a half once per month during the school year. A $2,500 stipend is provided to selected participants to support the implementation of Teen Science Cafes. APPLY TO BE A TEEN SCIENCE CAFE MOONSHOT FELLOW HERE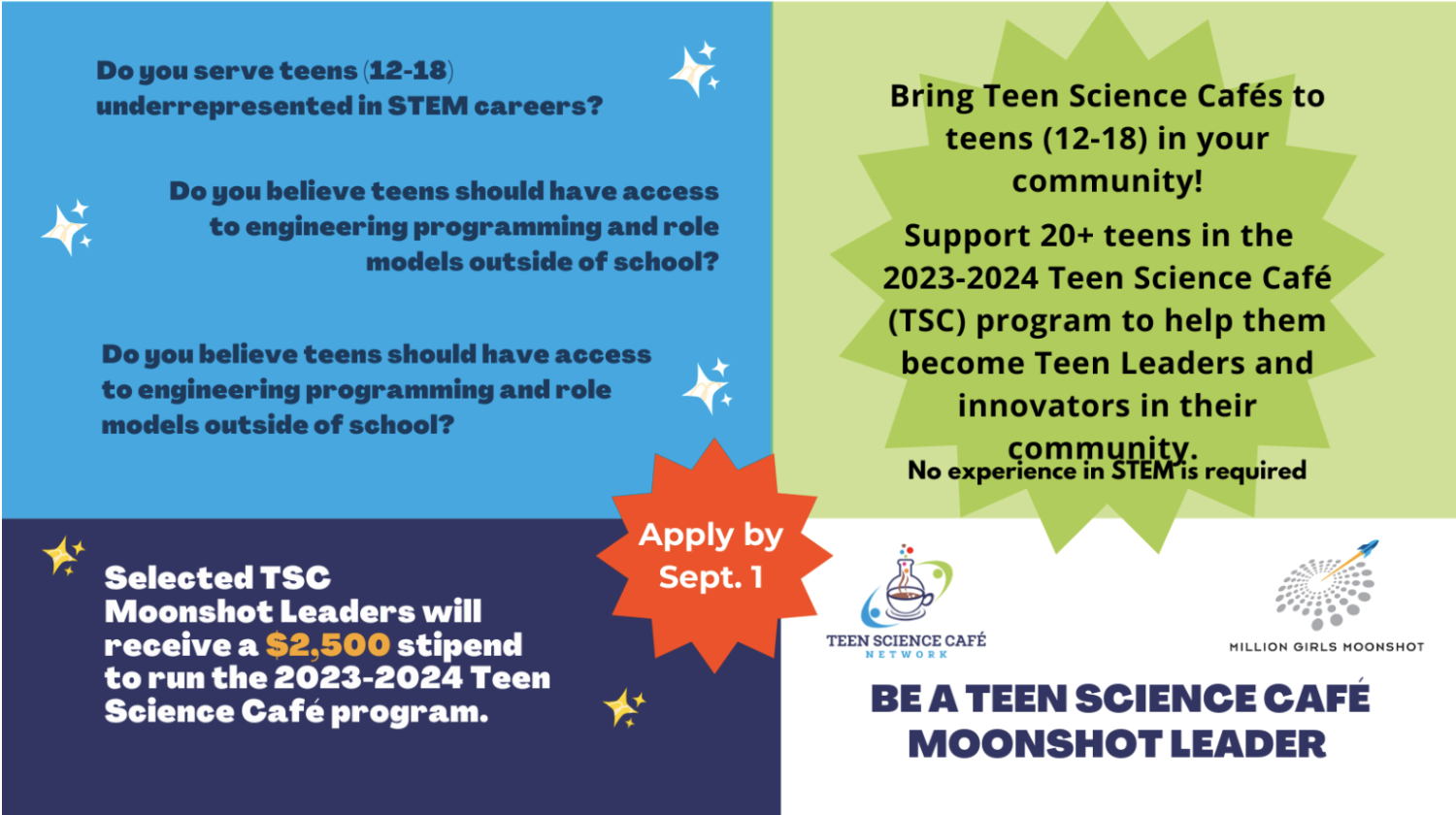 NO COST TRAINING ON CURRICULUM
Click2Engineering Community of Practice
This community of practice is a component of Click2Engineering, an asynchronous, module-based online professional development program for after-school educators. Participants in this community of practice get to be a part of developing future learning experiences and will have special access to existing Click2Engineering resources, including new curriculum and one-on-one coaching opportunities! Online meetings will include learning, working with materials, reflection, and sharing your ideas with others. You will grow your understanding of engineering and increase your confidence and ability to lead engineering sessions with youth SUBMIT AN INTEREST FORM

Nurturing STEM Identity and Making Career Connections
Wednesdays: 09/20/2023, 10/04/2023, 10/18/2023 11:00 am - 1:00 pm EST/ 8:00 - 10:00 am PST
How do you help youth recognize their role in STEM? How do you help youth learn about STEM careers? Participants experience several easy-to-implement strategies, including a photo-elicitation activity that can help youth form STEM identities, and then learn how to conduct related activities with youth.
*The expectation is that you will be live at all three sessions and an active member of this coaching cohort. Recordings are not available if you are unable to attend. Completion of the Asking Purposeful Questions module is a prerequisite for this module. REGISTER HERE Code: AC360ID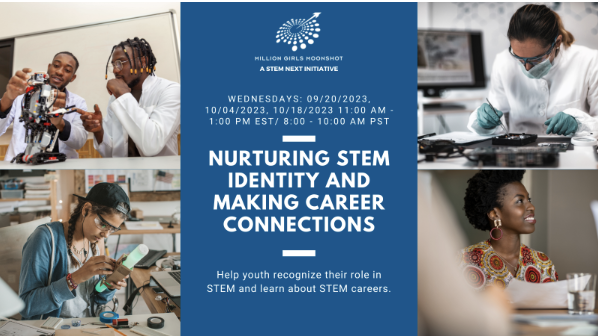 Click2Engineering: Engineering Mindset Fall Community of Practice
Thursdays September 14, September 28, October 12, and October 26 2:30 - 3:30 EST / 11:30 AM - 12:30PM PST
REGISTER HERE
The Click2Engineering community of practice (CoP) introduces out-of-school time educators to the basics of engineering and leading engineering activities with youth. The CoP is organized around the 10 Practices for an Engineering Mindset, and includes hands-on engineering activities, developing engineering experiences for youth, and learning skills to facilitate engineering practices. The CoP is 4 meetings over 6 weeks.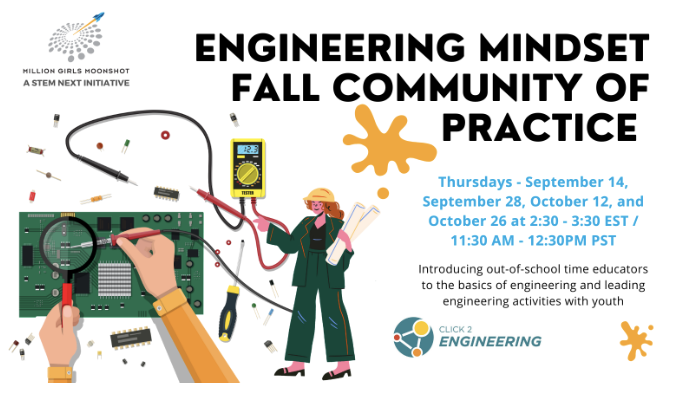 You're a Computational Thinker
Wednesday September 20th 12:00-1:00 PM EST / 9:00 - 10:00 AM
REGISTER HERE
Learn what computational thinking means and reflect on the ways in which you are already a computational thinker. Learn how you can help youth develop as computational thinkers and leave with strategies you put into use right away.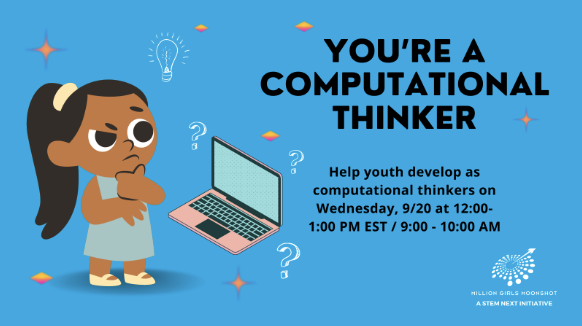 Hiring Interns or Teen Leaders for the Summer? Asynchronous Course
Click2ComputerScience's new course, Teens Learning to Lead, is a great way to help new interns get prepared for working with youth. It is a leadership course for high school and college-aged people designed for participants to complete on their own, or with a team. We recommend that teams who will be teaching together over the summer complete the course together. Participants will need a computer and a journal for reflecting on their learning. The reflection points can be the basis for discussions with a supervisor. mentor or coach that will help participants learn and grow as leaders.
This is a self-directed online learning experience offered at no cost by Click2ComputerScience. The course is divided into four units with a culminating experience that lets participants apply what they have learned. See Teens Learning to Lead for yourself.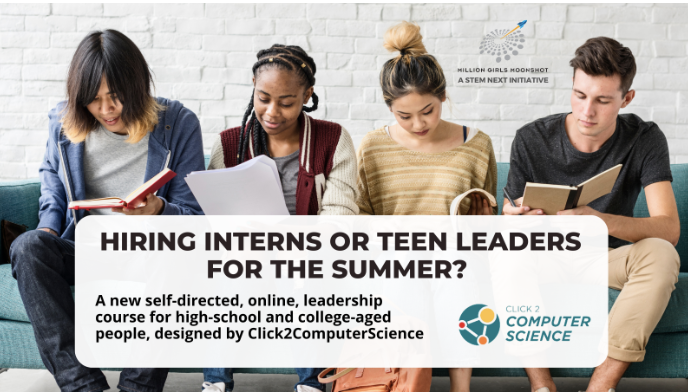 Afterschool Math Plus Curriculum Training
Tuesdays: July 18, August 15, September 19, October 17, and November 28, 2023 1:00 - 2:00 PM EST
REGISTER FOR EACH INDIVIDUAL TRAINING SESSION HERE
MusicMath: Unexpected Math, Creating Rhythms, and Making Rhythm Patterns — September 19th 1:00-2:00pm EST

Create musical patterns, then repeat the patterns and think about how to represent the patterns using words, pictures, and symbols.

MusicMath: Composing Music (with Math!) — October 17th 1:00-2:00pm EST

Experiment with repeating patterns and create new arrangements using similar sounds in different sequences.

MusicMath: Discovering Music Fractions — November 14th 1:00-2:00pm EST

Identify and represent parts of fractions using music and explore combinations and permutations, or ways of creating variety while still using the same elements.

MusicMath: Orchestration — December 12th 1:00-2:00pm EST

Use fractions to create musical compositions, then perform the compositions using found instruments (pans, boxes, pencils, whistles). Create new combinations and permutations for the music fractions.
Note: Each webinar will include strategies to support a positive Math Identity (e.g., role models, career connections, family connections, literacy connections).
REGISTER FOR EACH INDIVIDUAL TRAINING SESSION HERE
Scientific Adventures for Girls Math Curriculum Training
October 3, 10, and 17th 12:00-1:00PM EST / 9:00-10:00AM PST
REGISTER FOR EACH INDIVIDUAL SESSION HERE
Harnessing the Magic of Math
Join us for a dynamic three-part virtual training series designed to breathe life into math through games, through meaningful, kid-friendly data analysis, and nature exploration. Our sessions focus on strategies that accommodate multiple grade levels and ability levels, helping you meet each student where they are. Prepare to turn your after-school program into a vibrant and engaging mathematical journey!
Session 1: Let's Play

October 3rd 12:00-1:00PM EST / 9:00-10:00AM PST
Delve into the world where play meets mathematics. In this session, we'll explore how common game pieces, such as dominoes and dice, can be transformed into effective math teaching and exploration tools. You'll learn strategies for presenting math concepts in a playful, engaging manner, catering to different grade levels and ability levels. We'll discuss how games can enhance critical thinking, problem-solving, and cooperative learning among students.

Session 2: Data Detectives

October 10th 12:00-1:00PM EST / 9:00-10:00AM PST
In our second session, we'll focus on strategies to collect and analyze data in fun and meaningful ways. From measuring the bounce of different balls and exploring exponential decay by eating M&M's, we'll demonstrate how students can become active participants in the world of gathering and interpreting data.

Session 3: Nature's Numbers: Exploring Shapes & Patterns

October 17th 12:00-1:00PM EST / 9:00-10:00AM PST
In our final session, we will explore the geometric patterns and three-dimensional shapes that exist in the natural world, demonstrating how these can be used to enrich math learning. This session will equip you with strategies to engage all students, from the youngest to the oldest, and from beginner to advanced levels.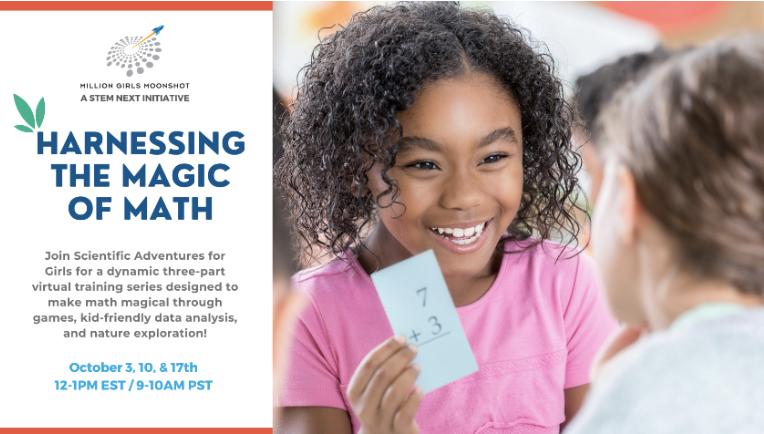 STEM Flights is a national nonprofit organization that combines STEM education with a free flight experience for middle and high school students. They pair students with Pilot Mentors in their geographic area to receive a flight experience, learn about aviation and STEM careers, and connect with local aviation enthusiasts. Students complete the STEM Flights application, study online aviation and STEM curriculum, and submit a letter of recommendation before they are matched with a pilot. Student applications are accepted year-round and in all 50 states.
Our mission is to create positive experiences in aviation and inspire America's youth to pursue STEM and aviation careers. If you know a 6th-12th grade student who is interested in the world of STEM or aviation, encourage them to apply today! To learn more, please visit our website or reach out to for additional information.
STUDENTS APPLY HERE! Student Application
VISIT OUR WEBSITE: www.stemflights.org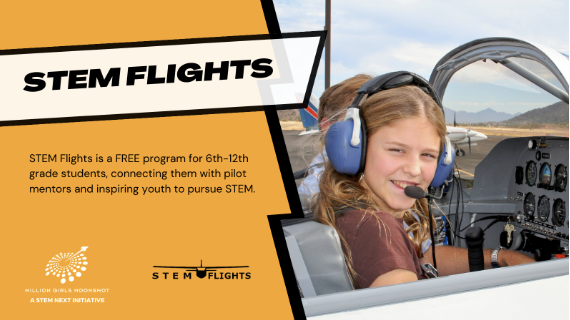 NO COST ACTIVITIES
Activity Playlist
Looking for activities you can implement in your afterschool program today? Say goodbye to googling or searching on Pinterest. Use the following activities in sequence to support youth in building an engineering mindset.
Mizzen by Mott
Supported by the Mott Foundation, Mizzen is available at no cost to afterschool professionals! Encourage partners to download the Mizzen By Mott app to access STEM activities at your finger-touch! You'll find it in Mizzen here.
Featured Activities & Playlists
Mizzen Playlist: STEM Activities for K-5th Grade in Small Groups - This playlist is a great mix of engineering and science activities that are easy and fun for small groups of students.
Mizzen Playlist: Science Notebooks for 3rd - 12th Grade - Keeping a notebook can help your students think and act like scientists and engineers. Sample these easy-to-implement strategies and lessons to bring science notebooking into your program.
Mizzen Module: S.INQ Up Earth and Space for 6-8th Grade - Earth and Space is an inquiry and exploration-based curriculum that uses hands-on activities focused on the relationships between the earth, the solar system, and human impacts on our global environment.
Curriculum: After-School Science PLUS - Download Building with Wonderful Junk and take the challenge! Build a bridge or a platform that meets a set of requirements and test it. Challenge the kids to add to the activity (For example build a bridge that will hold a student up 6 inches from the floor).
Activity Toolkit: STEM Educators Academy Activity Toolkit from ExpandED Schools — This Activity Toolkit offers hybrid learning engineering design challenges, STEM facilitation skill builder videos, and engineering design activities categorized by content areas.
Activity Toolkit: Engineering is Elementary's NASA Partnership free units - A suite of free NASA-funded STEM resources for students in grades 3-8. All resources are research-based and classroom-tested. They are designed to support students' understanding of space, while helping them see themselves as capable problem solvers.
Student Activities: 30 Active Math and Activities for Kids Who Love to Move - When kids think of math, they usually picture worksheets and flashcards. But math doesn't have to be dull! These active math games get kids up and moving, using their whole bodies to learn facts and skills. Lots of these ideas can be adapted to suit a variety of math concepts, so choose a few to try out with your math students soon.
Student Activity: Try Engineering Lesson Plan: Take Flight! - This lesson for ages 8-12 explores how flight is possible and how engineers have improved glider designs and materials to improve flight accuracy and distance.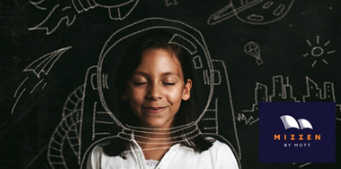 ADDITIONAL RESOURCES
Hispanic Heritage Month Resource: 21 Scientists and engineers to learn more about! - To encourage youth to learn more about these scientists and to explore related science projects and careers for scientists they find interesting, for each scientist, we have included a short biographical summary, links to 1-2 hands-on science projects related to the scientist's area of study, links to relevant science career profiles, and a link to a biography below.
Hispanic Heritage Month Resource: Celebrating Latinx Scientists and Their Work: Resources for your Afterschool Program - National Hispanic Heritage Month offers a great opportunity for students to learn about the many Latinx contributions to STEM. During this month (which runs September 15 to October 15)—and all year—you can use the groundbreaking discoveries of Latinx scientists as the foundation for STEM learning activities.
Hispanic Heritage Month Resource: 4 Read Alouds and STEM Challenges for Hispanic Heritage Month - September is Hispanic Heritage Month, and it's the perfect time to integrate STEM and literacy to help teach students about diversity in STEM and professional careers. Here are 4 of our favorite STEM Read Aloud activities and challenges for kids to use in your classroom during Hispanic Heritage Month!
Hispanic Heritage Month Resource: Latina Girls Code - The program was created to fill the diversity gap between girls who are interested in technology through education and resources, including mentors, access to hardware and digital tools as well as internships through various programs and events throughout the year serving girls ages 7-17.
Hispanic Heritage Month Resource: Space Place by NASA (in Spanish) - Aims to inspire and enrich upper-elementary-aged youth's learning of space and Earth science through games, hands-on activities, informative articles, and videos. Includes resources for parents and educators.
Family Engagement Resource: Welcome Back to Afterschool 2022 Five Big Ideas to Spark Family Engagement in STEM - STEM can spark a curiosity in children that can inspire a lasting love of learning. Interest may come from a hands-on science investigation, a role model who codes for good causes, or words of encouragement from a teacher or afterschool instructor. Learn about five ideas to spark family engagement in your program and community.
Recruit STEM Experts as Volunteers!
Less than 50% of high school girls know a woman in a STEM career. Let's change that - recruit STEM professionals to support the youth you serve today!
VolunteerMatch attracts more than 1M site visits each month, and is easily one of the best ways to find strong role models for the youth you serve.
The Moonshot has partnered with VolunteerMatch to connect STEM experts with OST programs! Create a free VolunteerMatch account and post volunteer opportunities to work with your youth today! Register here to find role models and mentors in STEM.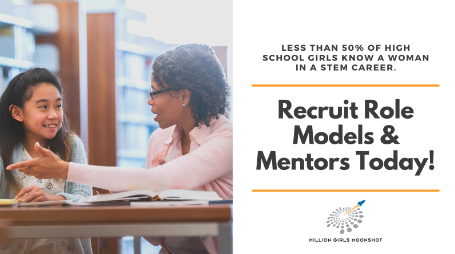 TRANSFORMATIVE PRACTICES
Equity and Inclusion: Build the capacity of program providers using the "Access to STEM" Framework as a guide to your webinars, professional development, community of practices, or one-on-one conversations. The Framework is packed with strategies and tactics to create inclusive programs and activities for all learners.
Equity and Inclusion: Teaching Math to Students with Disabilities can be a rewarding challenge. Many of your students will have struggled with math for several years and will be delighted if math suddenly clicks for them. Here are a few strategies to help you successfully teach this population.
Engineering Mindset and Math: Elementary & Middle School Math Club Ideas And Activities: From Set Up To Running It If you have always wanted to set up a math club but aren't quite sure how to do it or what kind of math club activities you could use, then this blog should set you on the right path. Packed with math club ideas, tips and tricks from a teacher with over 20 years experience, after reading this post you will be in good shape to start your own club in no time at all.
Role and Models Resource: Math and Science Mavens highlights some of the most influential women in STEM who have been integral to transforming these ideas into world-changing discoveries and inventions. Check out the seven rock star women from STEM fields, plus classroom activities you can use to help inspire your female students to follow in their footsteps.
Role Models and Mentor Resource: National Mentoring Resource Center is a collection of mentoring resources including handbooks, curricula, manuals, and other resources that practitioners can use to implement and further develop program practices.
STEM Handoffs and Transitions: Brokering Youth Pathways: A Toolkit for Connecting Youth to Future Opportunity from the Hive Research Network shares ways in which various out-of-school educators and professionals have approached the challenge of brokering. We provide a framework, practice briefs and reports that focus on a particular issue or challenge and provide concrete examples, as well as illustrate how our partners worked through designing new brokering routines in partnership with our research team.
ASSETS FROM THE IF/THEN® COLLECTION
Hispanic Heritage Month
These assets feature IF/THEN Ambassador Roselin Rosario-Meléndez, Polymer Chemist, Minerva Cordero, Mathematician and Mathematics Professor, and Luz Claudio, Environmental Health Scientist, and can be used in marketing, presentations, social media, and conference presentations.
Dana Bolles Role Model Resources:
Jessica Esquivel Role Model Resources:
Posters: This is What A Scientist Looks Like poster featuring particle physicist Dr. Esquivel, an AfroLatinX PhD holder breaking barriers and paving the way.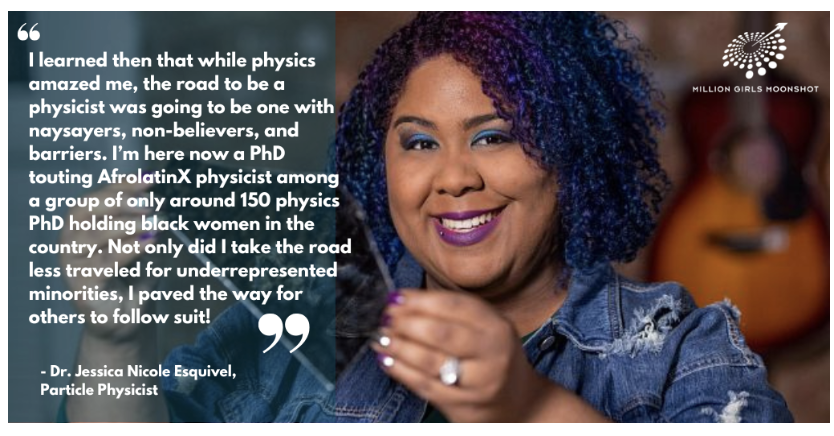 If you are looking for more STEM resources be sure to check out our Resource Library, Young Utahpreneur Grant and the Pitch Challenge!