What is Million Girls Moonshot?
Million Girls Moonshot is a STEM initiative that seeks to re-imagine who can engineer, who can build and who can make. In Utah we are doing this by reaching girls from a young age, using near-peer mentors and involving families. In 2021 we launched our Million Girls Moonshot program in seven pilot sites. These sites were recipients of our MGM innovation stations, STEM curriculum and a wide array of professional development. This Mott funded initiative aims to engage one million more girls in STEM learning opportunities and we are pleased to announce that we are ready to expand to an additional ten sites.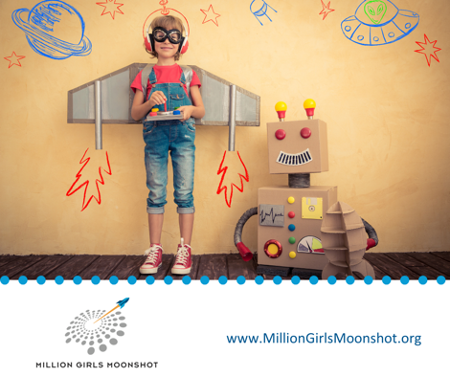 Current Million Girls Moonshot Sites in Utah
Entheos (Kearns)
Entheos (Magna)
Juab (Red Cliffs)
Pacific Heritage
Escalante
Panguitch
Iron County
If you would like learn more about how your program can become a Million Girls Moonshot site please complete the Million Girls Moonshot Interest Form.
Monthly MGM Resources
Each month the Million Girls Moonshot resources will be updated with webinars, trainings, curriculums and more that will help bolster any STEM program.
Featured Webinars:
We're all for the "M" in #STEM - don't miss a webinar with @ngcproject that will focus on all the ways math impacts our everyday lives!! Register Here
Learn how to make math meaningful and accessible in afterschool! Learn More
Quality Trainings:
If you're an educator new to #STEM, don't miss the @mmsa_org ACRES "Ready, Set, STEM! & Asking Purposeful Questions" cohort this spring!! Ready, Set, STEM!
Elevate youth voice in #STEM with @mmsa_org ACRES cohort "Elevating Youth Voice and Choice." Don't miss this! April Cohort
If you are looking for more STEM resources be sure to check out our Resource Library, Young Utahpreneur Grant and the Pitch Challenge!