What is Million Girls Moonshot?
Million Girls Moonshot is a STEM initiative that seeks to re-imagine who can engineer, who can build and who can make. In Utah, we are doing this by reaching girls from a young age, using near-peer mentors, and involving families. In 2021 we launched our Million Girls Moonshot program in seven pilot sites. These sites were recipients of our MGM innovation stations, STEM curriculum, and a wide array of professional development. This Mott-funded initiative aims to engage one million more girls in STEM learning opportunities and we are pleased to announce that we are ready to expand to an additional ten sites.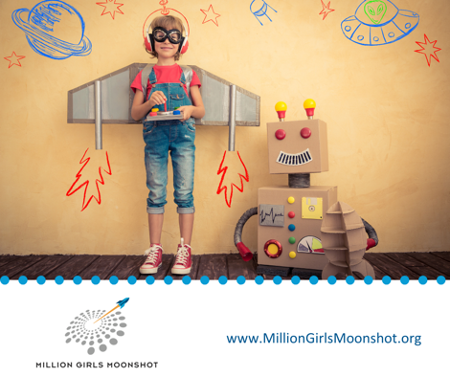 Current Million Girls Moonshot Sites in Utah
Entheos (Kearns)
Entheos (Magna)
Juab (Red Cliffs)
Pacific Heritage
Escalante
Panguitch
Iron County
If you would like to learn more about how your program can become a Million Girls Moonshot site please complete the Million Girls Moonshot Interest Form.
Monthly MGM Resources
Each month the Million Girls Moonshot resources will be updated with webinars, trainings, curriculums, and more that will help bolster any STEM program.
Featured Webinars:
Ready to train volunteers and role models in your Network, school, or afterschool program? COMPLETE THIS REGISTRATION FORM to gain access to the Role Models Matter training developed by Techbridge Girls.
Quality Trainings:
Interested in learning about DoS-PPT, a free resource for facilitators of out-of-school and in-school STEM learning programs? Learn more about free trainings in August: https://bit.ly/3N6mhsr @PEARImpact
If you're an educator new to #STEM, don't miss the ACRES "Ready, Set, STEM! & Asking Purposeful Questions" cohort this summer → https://bit.ly/3jjhmaB
Equity and Inclusion
Meet Joy James, an author who hopes to inspire kids by celebrating Black inventors: https://bit.ly/3M4dnKB #WomeninSTEM
Engineering Mindsets
What is environmental engineering? Learn more & explore a fun (and delicious!) environmental experiment: https://bit.ly/3z9fv0X #afterschoolSTEM
Failure can be a good thing, especially in the world of engineering and invention. Read more on how reframing failure can build #STEM confidence: https://bit.ly/3wXn6gm
Incorporating Role Models
How can we incorporate the stories of women, people of color, and LGBTQ+ scientists into #physics classrooms? Check out these resources from @NSTA: https://bit.ly/3M6rejs
Activities for Programs
Engineering a fix for the Great Pacific Garbage Patch: this STEM activity from Science Friday encourages youth to use engineering to take care of the planet https://bit.ly/3lXpjmH
Take the challenge! This "Building with Wonderful Junk" activity will lead kids in building a bridge and testing it: https://bit.ly/37SPYxw
If you are looking for more STEM resources be sure to check out our Resource Library, Young Utahpreneur Grant and the Pitch Challenge!