What is Million Girls Moonshot?
Million Girls Moonshot is a STEM initiative that seeks to re-imagine who can engineer, who can build and who can make. In Utah, we are doing this by reaching girls from a young age, using near-peer mentors, and involving families. In 2021, we launched our Million Girls Moonshot program in seven pilot sites. These sites were recipients of our MGM innovation stations, STEM curriculum, and a wide array of professional development. This Mott-funded initiative aims to engage one million more girls in STEM learning opportunities and we are pleased to announce that we are ready to expand to an additional ten sites.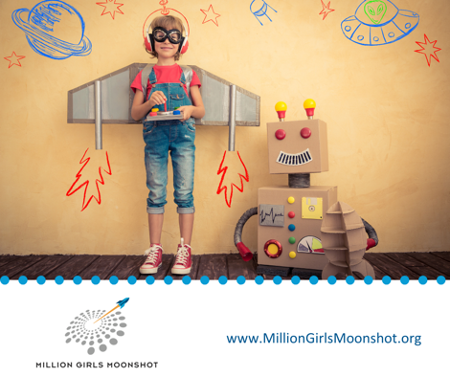 Current Million Girls Moonshot Sites in Utah
Entheos (Kearns)
Entheos (Magna)
Juab (Red Cliffs)
Pacific Heritage
Escalante
Panguitch
Iron County
If you would like to learn more about how your program can become a Million Girls Moonshot site please complete the Million Girls Moonshot Interest Form.
Monthly MGM Resources
Each month the Million Girls Moonshot resources will be updated with webinars, trainings, curriculums, and more that will help bolster any STEM program.
NO COST WEBINARS
Exploring Engineering as a Career with Jobs for the Future
March 13th 11:00-12:15 pm PST / 2:00-3:15 pm EST
Join Jobs for the Future (JFF) as they unpack Possible Futures, a no cost career exploration curriculum for learners in grades 6 through 10, consisting of six units that help learners: develop essential employability skills, explore STEM occupations, and better understand themselves and the world of work. In this webinar, participants will dive into the Engineering unit — a series of twelve lessons that help youth explore the role of engineering professionals as they tackle engineering challenges based on relevant, real-world problems. Participants will leave with everything you need to implement the lessons with youth: digital copy of the 12 lessons, facilitator guide, lesson materials, and youth worksheets. REGISTER HERE.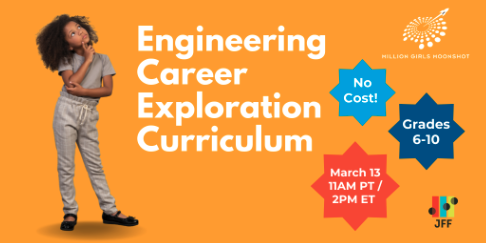 ACRES Training Cohort: Asking Purposeful Questions
Mondays: 3/14/2023, 3/28/2023, 4/11/2023 10:00 am-12:00 pm EST/ 7:00-9:00 am PST
Mondays: 4/17/2023, 5/1/2023, 5/15/2023 6:00 pm-8:00 pm EST/ 3:00-5:00 pm PST
Questions begin a path towards discovery, imagination, and STEM exploration. How can we help youth expand and clarify their thinking and develop their reasoning through the questions we ask them? This module is a great way to train staff on how to facilitate STEM learning. Experienced educators also love being part of a cohort as a way to connect with other educators across the country, to learn new lesson plans, and to reflect on practice. This is our introductory module and a prerequisite to other opportunities. *The expectation is that you will be live at all three sessions and an active member of this coaching cohort. Register: Use the code AC288PQ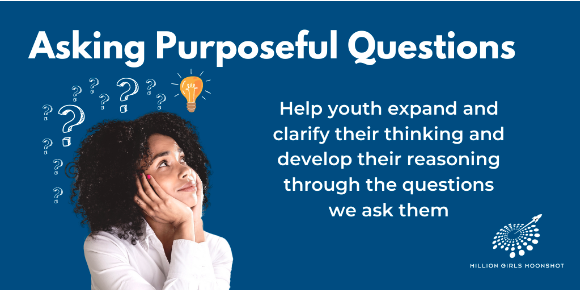 ACRES Training Cohort: Facilitating Engineering Practices
Thursdays: 3/16/2023, 3/30/2023, and 4/13/2023 10:00 AM-12:00 PM EST
Engineering has become a staple of STEM programming for youth. How can we confidently bring engineering into our programming and support youth as they engage in problem-solving? In this module, you'll gain first-hand experience with engineering by solving a design problem. As a participant, you'll examine the components of the engineering design process and discuss ways to model the process with youth. Asking Purposeful Questions is a prerequisite to this skill. *The expectation is that you will be live at all three sessions and an active member of this coaching cohort. REGISTER HERE. Code: AC289EP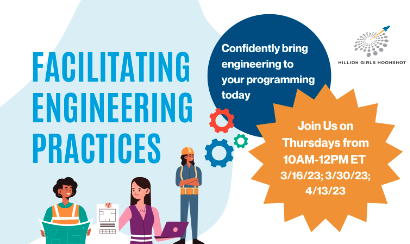 ACRES Training Cohort: Facilitating Math Practices
Wednesdays: 4/12/2023, 4/26/2023, and 5/10/2023 11:00 AM-1:00 PM EST / 8:00-10:00 am PST
Are you looking for fun ways to help youth build number sense and problem-solving skills? Math can take on new meaning when it is integrated into daily routines in our afterschool programs. In this module, afterschool educators will explore and practice strategies for making math engaging and accessible. Asking Purposeful Questions is a prerequisite to this skill. *The expectation is that you will be live at all three sessions and an active member of this coaching cohort. Recordings are not available if you are unable to attend. REGISTER HERE Code: AC228PQ
Click2Engineering Spring Community of Practice
April 5, April 19, May 3, and 17 2023
The Click2Engineering community of practice (CoP) introduces out-of-school time educators to the basics of engineering and leading engineering activities with youth. The CoP is organized around the 10 Practices for an Engineering Mindset, and includes hands-on engineering activities, developing engineering experiences for youth, and learning skills to facilitate engineering practices. The CoP is four meetings over 8 weeks. REGISTER HERE
Click2CS Virtual Workshop: Supporting Productive Failure
April 26, 2023 3:00-4:00 pm EST/ 12:00-1:00 pm PST
Knowing how to help youth see how failure can be productive is critical for developing an engineering mindset. Join this virtual workshop to learn how you can create learning experiences that support youth and help them persist through their frustration and learn from failures. By engaging in authentic engineering work, youth develop engineering identities and the mindset to solve problems and change the world. REGISTER HERE
PEAR DIMENSIONS OF SUCCESS (DoS) Training & Certification
April 20, 2023 10:00am-4:00pm EST/ 7:00 am-1:00 pm PST (Registration deadline is April 6th)
Developed by PEAR, the Dimensions of Success (DoS), is a research-based observation tool that measures the quality of students' STEM learning experiences. The DoS training and certification process involves a two-day live webinar training, completion of video calibration exercises, a one-hour live calibration session, and successful completion of two practice observations in the field. Certification is provided at no cost Network and program leads affiliated with the Moonshot. REGISTER HERE.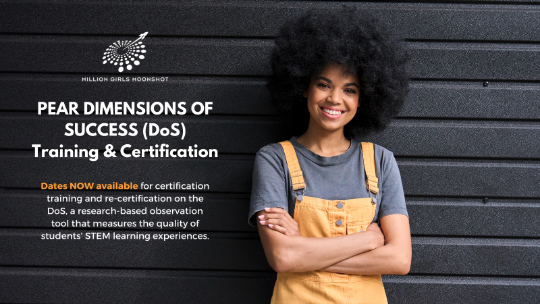 PEAR DIMENSIONS OF SUCCESS (DoS) Recertification
March 28, 2023 1:00-2:30 pm EST/ 10:00-11:30 am PST
Please note that observers that have been certified for two or more years need to complete recertification to make sure they are continuing to use the tool reliably. REGISTER HERE.
NO COST TRAINING ON CURRICULUM
Afterschool Math Plus Curriculum Training
Thursdays: April 18, May 16, June 20, July 18, August 15, September 19, October 17, and November 28, 2023 1:00 - 2:00 PM EST
REGISTER FOR EACH INDIVIDUAL TRAINING SESSION HERE
Jump Rope Math: Everyday Math & Exploring Jump Ropes — April 18th 1:00-2:00pm EST

Collect data about participants' jump rope techniques. Use the data to create bar graphs, draw conclusions, and ask questions about jumping rope.

Jump Rope Math: The Whys of Jumping Rope — May 16th 1:00-2:00pm EST

Conduct surveys about why people jump rope and use data to create bar graphs and Venn diagrams to represent people's answers.

Jump Rope Math: How Far Can You Go? — June 20th 1:00-2:00pm EST

Create line graphs and use data to make predictions about how far jumpers can travel in a set amount of time.

Jump Rope Math: Going to Great Lengths — July 18th 1:00-2:00pm EST

Observe patterns, create a scatter graph, and analyze data to make predictions about connections between jump rope length and jumper height.

Jump Rope Math: Designing a Math Investigation — August 15th 1:00-2:00pm EST

Use bar graphs, line graphs, scatter graphs and Venn diagrams to explore different ways of answering math questions about jumping rope.

MusicMath: Unexpected Math, Creating Rhythms, and Making Rhythm Patterns — September 19th 1:00-2:00pm EST

Create musical patterns, then repeat the patterns and think about how to represent the patterns using words, pictures, and symbols.

MusicMath: Composing Music (with Math!) — October 17th 1:00-2:00pm EST

Experiment with repeating patterns and create new arrangements using similar sounds in different sequences.

MusicMath: Discovering Music Fractions — November 14th 1:00-2:00pm EST

Identify and represent parts of fractions using music and explore combinations and permutations, or ways of creating variety while still using the same elements.

MusicMath: Orchestration — December 12th 1:00-2:00pm EST

Use fractions to create musical compositions, then perform the compositions using found instruments (pans, boxes, pencils, whistles). Create new combinations and permutations for the music fractions.
Note: Each webinar will include strategies to support a positive Math Identity (e.g., role models, career connections, family connections, literacy connections).
REGISTER FOR EACH INDIVIDUAL TRAINING SESSION HERE
SPECIAL ACTIVITIES
TRANSFORMATIVE PRACTICES
Professional Development Guide For Staff: The National Center for Quality Afterschool Math in Afterschool - The National Partnership for Quality Afterschool Learning developed professional development guides for four content areas of the toolkit: literacy, math, technology, and the arts.
Activity Toolkit: Growing Math - Provides ready-to-roll-out lessons and games combining math, agricultural science and Indigenous history and culture that can be easily used in classrooms, via hybrid models or through distance learning. The project will provide resources, curriculum, training and tech support to teachers and students in Grades 3-8 at schools in six states: Arizona, Minnesota, New Mexico, North Dakota, Oregon and South Dakota. For schools in the region, all participation and resources are supported through USDA funds.
Toolkit: Engaging Families in Mathematics Education - Families are a child's first educator and this role does not halt on day one of school. Families lay the foundation for future educational success. Researchers have identified four best practices for engaging families effectively in mathematics education.
Educator Guide: STEM Activities for Families - Easy to implement engaging activities for families (as a follow up to after school activities.)
Toolkit: Brokering Youth Pathways: A Toolkit for Connecting Youth to Future Opportunity from the Hive Research Network - This toolkit shares ways in which various out-of-school educators and professionals have approached the challenge of brokering. We provide a framework, practice briefs and reports that focus on a particular issue or challenge and provide concrete examples, as well as illustrate how our partners worked through designing new brokering routines in partnership with our research team.
NO COST ACTIVITIES
Activity Playlist
Looking for a sequence of activities you can implement in your afterschool program today? Say goodbye to googling or searching on Pinterest. Use the following activities in sequence to support youth in building an engineering mindset.
Civil Engineering: Civil Engineers manage, design, develop, create, and maintain projects. design roads, bridges, airports and structures that improve daily life.
Activity: Build the Best Paper Bridge - Bridges come in a variety of shapes and sizes. Use this simple activity to demonstrate civil engineering design.
Role Model Example: Alecia Boler Davis - Mrs. Davis is a civil engineer who is known for her skills in Operations and Engineering. In 2016 she became Executive Vice President of global manufacturing.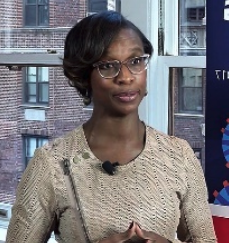 Biomedical Engineering: Biomedical engineers combine engineering principles with medical and biological sciences to design and create equipment, devices, computer systems, and software used in healthcare.
Activity: My Mechanical Ear Can Hear! - Worn by young and old, hearing aids are electronic devices that amplify sound at different levels for different pitches. Students are introduced to the types of biomedical devices that engineers have designed to aid people with this physical disability.
Role Model Example: Lisa Goel - Mrs. Goel is a Vice President, Technology Operations & Business Innovations at Nanobiosym.
Electrical Engineering: Electrical engineering is an engineering discipline concerned with the study, design, and application of equipment, devices, and systems which use electricity, electronics, and electromagnetism.
Activity: Measure Static Electricity With An Electroscope! - Youth explore how well materials around the house produce static electricity by making a simple, homemade electroscope (an instrument that detects electric charges) and testing it out.
Role Model Example: Carlotta A. Berry, PhD - Dr Berry is an electrical engineer who also works in robotics at the Rose-Hulman Institute of Technology. She specializes in human-robot interaction, human-robot interfaces, robotics education, mobile robotics, diversity in STEM. She is part of the Black in Robotics Speakers Bureau.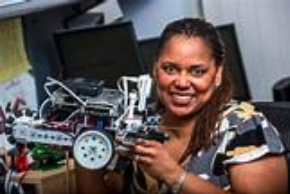 Looking for EVEN More Activities at NASA?!
Activity Toolkit: Engineering is Elementary's NASA Partnership free units - A suite of free NASA-funded STEM resources for students in grades 3-8. All resources are research-based and classroom-tested. They are designed to support students' understanding of space, while helping them see themselves as capable problem solvers.
Mizzen by Mott
Supported by the Mott Foundation, Mizzen is available at no cost to afterschool professionals! Encourage partners to download the Mizzen By Mott app to access STEM activities at your finger-touch! You'll find it in Mizzen here.
Featured Activities & Playlists
Mizzen Activity: Beach Ball Math
Mizzen Playlist: STEM Activities for 9-12th Grades - Students engage in science and engineering activities that contain accessible materials.
Mizzen Playlist: STEM Activities for K-5th Grade in Small Groups - This playlist is a great mix of engineering and science activities that are easy and fun for small groups of kids K-5th.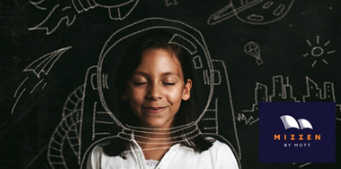 ADDITIONAL RESOURCES
Recruit STEM Experts as Volunteers!
Less than 50% of high school girls know a woman in a STEM career. Let's change that - recruit STEM professionals to support the youth you serve today!
VolunteerMatch attracts more than 1M site visits each month, and is easily one of the best ways to find strong role models for the youth you serve.
The Moonshot has partnered with VolunteerMatch to connect STEM experts with OST programs! Create a free VolunteerMatch account and post volunteer opportunities to work with your youth today! Register here to find role models and mentors in STEM.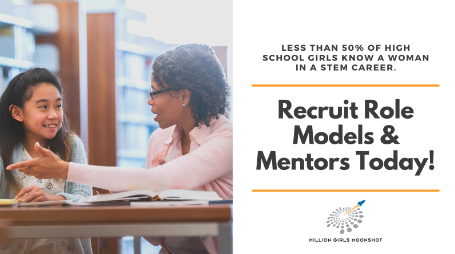 WOMEN'S HISTORY MONTH
SPECIAL OPPORTUNITIES
Early Access to Free DNA Kits to Celebrate DNA Day!
Afterschool programs connected with the Moonshot get EARLY ACCESS to Illumina's DNA kits! Every year, Illumina celebrates DNA Day throughout the month of April. Together with schools, districts and nonprofit partners, they provide educational programs and activities for all grade levels.
Illumina is providing "Moonshot educators" the materials and support to guide meaningful learning experiences for youth to discover the power of genomics. Visit their DNA Day site to receive illumina's genomics learning materials/DNA Kits and learn more about available resources
Early Access Code: Million Girls Moonshot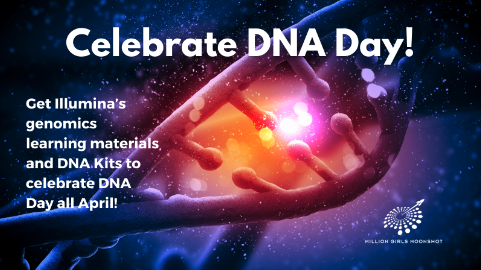 TRANSFORMATIVE PRACTICES
Toolkit: Women's History Month | Managing American Spaces (state.gov) Resource Toolkit for Women's History Month contains lesson plans, discussion guides, posters, social media, and movies about the struggle for women's equality in the United States, as well as, women's rights globally.
Toolkit: Math Equity Toolkit - This toolkit layers professional development into "Strides" that educators can take along a path to equitable education. Topics include Dismantling Racism in Mathematics Instruction and Creating Conditions to Thrive.
Website: Math Communities – Students, parents, and educators coming together to play with math! Math Communities creates a virtual community that provides free access to joyful collaborative activities designed by professional mathematicians and math educators for K-12 students, educators, and families. There are lots of ways to communicate with other folks interested in math.
Toolkit: Brokering Youth Pathways: A Toolkit for Connecting Youth to Future Opportunity from the Hive Research Network - This toolkit shares ways in which various out-of-school educators and professionals have approached the challenge of brokering. We provide a framework, practice briefs and reports that focus on a particular issue or challenge and provide concrete examples, as well as illustrate how our partners worked through designing new brokering routines in partnership with our research team.
ASSETS FROM THE IF/THEN® COLLECTION
These assets feature IF/THEN® Ambassadors Beata Mierzwa, Molecular Biologist and Artist, and Yamilée Toussaint Beach, Dance Technologist, and can be used in marketing, presentations, social media, and conference presentations.
Ambassador Profile, Beata Mierzwa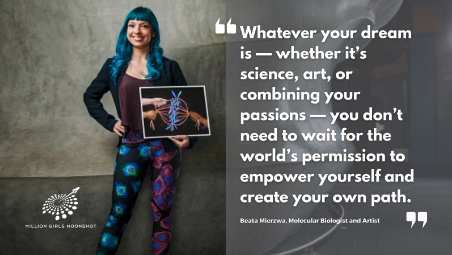 Ambassador Profile, Yamilée Toussaint Beach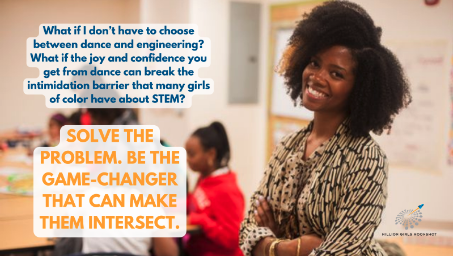 Celebrate Women's History Month with these posters from the IF/THEN®, available for use as screensavers or as part of lesson plans. You can also choose to print on your own and hang in your classroom and your facility's walls.
If you are looking for more STEM resources be sure to check out our Resource Library, Young Utahpreneur Grant and the Pitch Challenge!