Expectations for afterschool programs are high. Education reformers point to the potential of afterschool and summer programs to close achievement gaps, increase third grade reading proficiency and improve community outcomes. Year after year more research shows these goals can be achieved. Of course, Utah will not be able to sustain these outcomes without a quality workforce.
The Utah Afterschool Professional Development Incentive is one key way to develop workforce and program quality. The Incentive provides an aligned professional development system that provides supportive coursework, a registry to track professional accomplishments and a system of professional recognition.
Your participation in the Incentive is an important milestone in your career. The professional learning opportunities provide a continuum of learning that will help you offer the highest quality service to Utah families.
To learn more about the Afterschool Professional Development Incentive, click here to read through the brochure. Eligible afterschool professionals who complete all requirements and turn in all required documents on time will receive a financial award. **Financial award money is limited**
Requirements and Financial Awards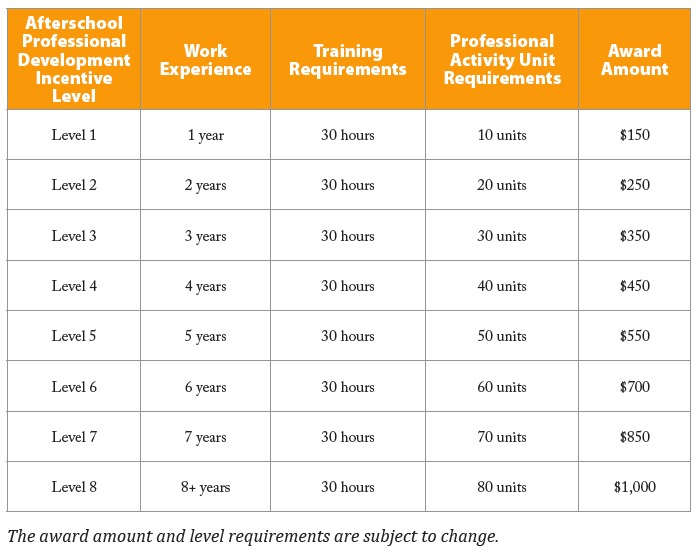 How to Apply For the Professional Development Incentive
Determine if you work in an afterschool program that is approved and eligible for its staff to receive the Afterschool Professional Development Incentive by visiting the Child Care Licensing website. Instructions can be found in the "FAQ's" by clicking here.

Print, complete, and MAIL OR DELIVER in person the Afterschool Professional Development Incentive Application.


Download the Afterschool Professional Development Incentive Verification Form and complete each tab of the Excel document with all applicable information:

Work Experience Verification
Training Verification
Professional Activities Verification
Applicant Summary



Once ALL Verification Form tabs are complete, save the document with the unique file name: "Firstname Lastname FY19 VF" and EMAIL the document to
Application deadline: April 12, 2019 at 5:00 P.M.
Click here for more information about Section One Trainings.