13th Annual Jump Start Conference
October 13 & 14, 2017
Eccles Conference Center
Ogden, UT
The 13th Annual Jump Start Conference is a professional learning event for afterschool staff, educators, emerging leaders and program administrators. Throughout the conference, attendees have opportunities to expand their knowledge of afterschool programming, network with others in the field, and learn new strategies to help improve youth outcomes.
We invite you to deepen your perspective, creativity, and skill set as you engage in Expanding the Possibilities for you and the youth you serve. Because of the influential role you serve as an afterschool professional, your interactions with youth can help them Expand their Possibilities in the near and distant future, as they discover their passions, build confidence, and reach new heights. We hope you Expand the Possibilities for yourself by making new connections and discovering state-of-the-art resources. By Expanding the Possibilities, we can all create a brighter future for our youth!
Registration
Single Day | $120
Two-Day | $200
Open | September 30, 2017


To learn about our keynote speakers, click the button above.

For the first time ever, Utah Afterschool Network is offering a Leadership Track at Jump Start for Afterschool Program Leaders!
Click the button above for more details and registration information.

We are taking this year's theme Expanding the Possibilities to a whole new level. UAN is partnering with various restaurants and businesses near the Ogden Eccles Conference Center to bring conference attendees huge deals and discounts during the conference. Each local business near the Ogden Eccles Conference Center that has the Expanding the Possibilities flyer posted outside of their business will offer a discount to conference attendees who show their conference name tag. See the list below for a sneak peek of our awesome deals we have secured just for you!

To view the conference schedule, click on the button above. Sessions will be updated often leading up to the event and are subject to change. Check back frequently!

Discounted group rates are available at surrounding hotels. For more information, click on the button above.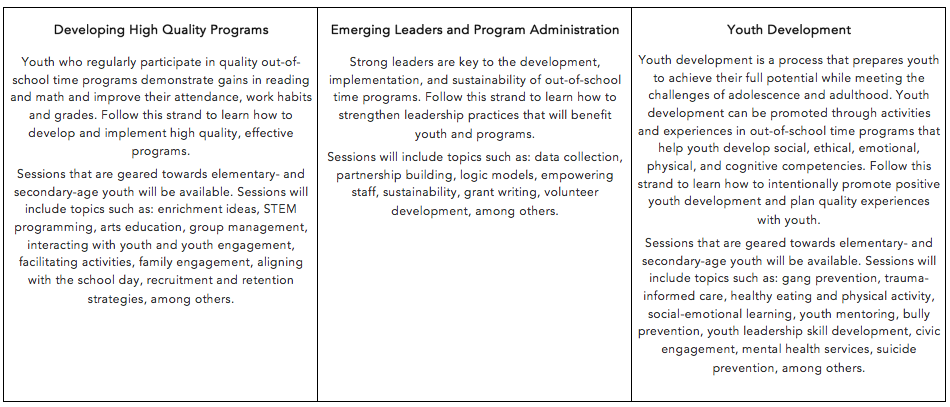 Sponsorships help create better afterschool programs for kids in Utah by supporting quality professional learning for afterschool educators and staff. Increase your visibility with a table in the Exhibit Hall and an ad in the Conference Book. Click on the button above to view the prospectus. Agreements are due August 15, 2017.