13th Annual Jump Start Conference
October 13 & 14, 2017
Eccles Conference Center
Ogden, UT
The 13th Annual Jump Start Conference is a professional learning event for afterschool staff, educators, emerging leaders and program administrators. Throughout the conference, attendees have opportunities to expand their knowledge of afterschool programming, network with others in the field, and learn new strategies to help improve youth outcomes.
We invite you to deepen your perspective, creativity, and skill set as you engage in Expanding the Possibilities for you and the youth you serve. Because of the influential role you serve as an afterschool professional, your interactions with youth can help them Expand their Possibilities in the near and distant future, as they discover their passions, build confidence, and reach new heights. We hope you Expand the Possibilities for yourself by making new connections and discovering state-of-the-art resources. By Expanding the Possibilities, we can all create a brighter future for our youth!
Early Bird Registration
Single Day | $90
Two-Day | $150
Open | June 29, 2017
Close | September 29, 2017
Late Registration
Single Day | $120
Two-Day | $200
Open | September 30, 2017


To learn about our keynote speakers, click the button above.

For the first time ever, Utah Afterschool Network is offering a Leadership Track at Jump Start for Afterschool Program Leaders!
Click the button above for more details and registration information.

Nominate a colleague for the exemplary work they are doing in the afterschool/out-of-school time field. Nominations are collected for five categories and Award Finalists will be recognized during the Award Ceremony at Jump Start. Award Finalists will also receive a free two-day conference registration! Nominations are now closed.

To view the conference schedule, click on the button above. Sessions will be updated often leading up to the event and are subject to change. Check back frequently!

Discounted group rates are available at surrounding hotels. For more information, click on the button above.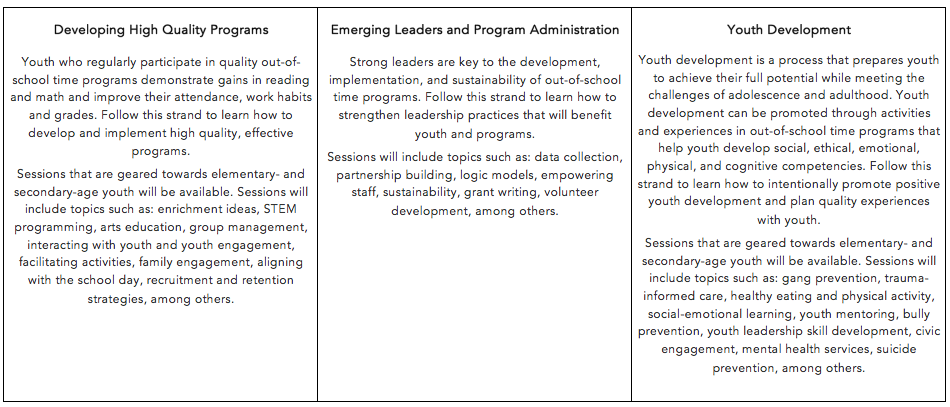 In partnership with the Utah Department of Workforce Services Office of Child Care, Professional Development Award opportunities are available to Utah out-of-school time professionals to help offset the registration cost for the two-day conference. Hotel Assistance Awards arealso available to assist with hotel accommodations for individuals attending both days of the conference. To learn more about the awards and to apply, click on the button above. Applications are due August 24, 2017.

Sponsorships help create better afterschool programs for kids in Utah by supporting quality professional learning for afterschool educators and staff. Increase your visibility with a table in the Exhibit Hall and an ad in the Conference Book. Click on the button above to view the prospectus. Agreements are due August 15, 2017.